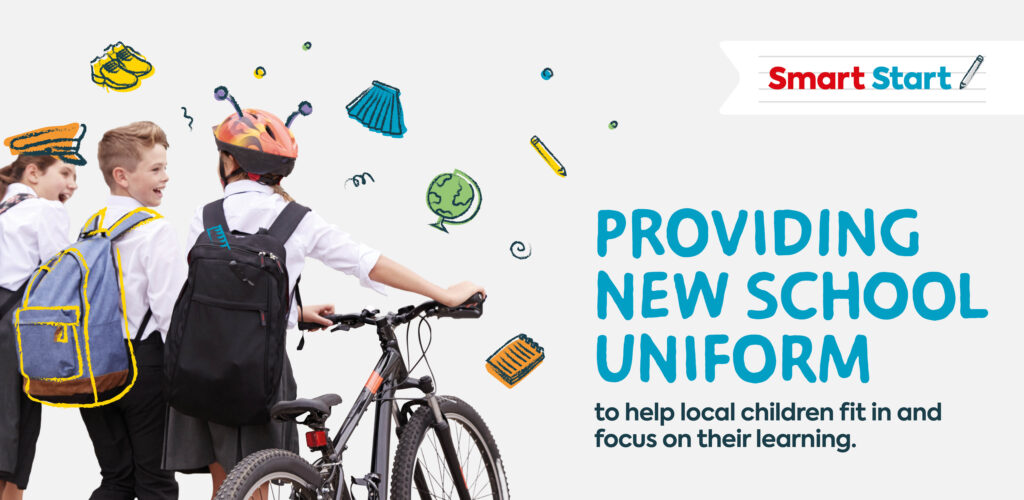 Smart Start aims to ensure that children from struggling families are not made to feel different from their classmates. Wearing the right uniform helps a child to feel confident, comfortable and achieve their full potential.
We run this project all year round, families can place uniform orders as required and they can also choose other school essentials such as winter coats, school bags, sports kit and stationery.
Help us provide new school uniform to help local children fit in and focus on their learning.
Download our Smart Start flyer here.
All of our services are free for families to access, so if you think you may need help through Smart Start please visit our For Families page. Or ask someone supporting your family to visit our For Referrers page.  
How your donations will help
To date, Smart Start has provided over 21,000 children from struggling families throughout Manchester and Salford with school uniform and other classroom essentials.
Your financial donations enable families to place orders for a pack of new, non-branded school uniform. Their order is handled by our uniform supplier, David Luke, who prepare the pack in their warehouse and then deliver it directly to the family's home. Your support also means that school uniform, rucksacks, winter coats, sports kit and stationery are available to families attending our Family Basics project.
By providing school essentials, you can help local children feel an increased sense of belonging, focus on their studies, and better enjoy their school years.
Help alleviate the worry of school uniform costs
How to support
Make a financial donation securely here

Fundraise with your friends, family, community or workplace

Donate or organise a collection of school uniform and classroom essentials from the list below. Contact our fundraising team for help with posters, fundraising materials and guidance

Donations can be dropped off in person or donated via direct delivery from online retailers to 26 Wood Street, Manchester M3 3EF. You can also book our van to collect from your chosen location.

Spread the word – share our project online using #SmartStart
If you would like to support us, please get in touch with our fundraising team at fundraise@woodstreetmission.org.uk

Items you can donate
Donations must be suitable for ages 4-16, non-branded and either new or very good second hand condition.
Shirts and blouses – white, sky blue

Polo tops – white, sky blue

Sweatshirts and jumpers – navy, grey, black

Trousers, skirts and pinafores – grey, black

Summer dresses – blue and green

New footwear

New socks, tights and underwear

PE and sports kit

Winter coats

Hats, scarves and gloves

New stationery and pencil cases

New drinks bottles

New lunch boxes

School bags

Rucksacks