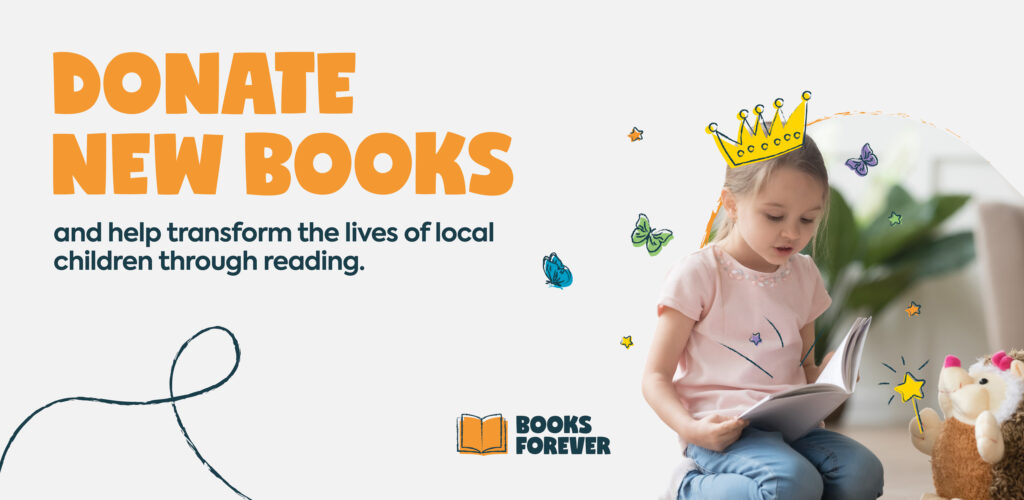 Our Books Forever project helps transform the lives of local children through reading. Books change lives – books can inspire, encourage imagination and creativity, and help improve reading skills. We want to ensure that children can access books even when their families may be struggling.
Donate books for children affected by poverty in Manchester and Salford and help inspire a love of reading. 
Download our Books Forever Appeal flyer here.
Books are a uniquely portable magic

Stephen King
How your donations will help
We work with local schools to organise our Book Roadshow events throughout the year, where we distribute free books to children for them to take home and keep. Books are also distributed to the children we support via our Family Basics project all year round.
Once a year we hold our Books Forever Appeal when we specifically appeal for brand new books. Your donations are important to us and we will continue to welcome donations of good quality second hand books the rest of the year, following the Appeal.
In 2022, we were able to distribute over 20,000 books to children through our Book Roadshows in local schools. Our incredible supporters are what makes this all possible – your donations can inspire a love of reading, and providing children with books can really change their lives.
Donate new books and help transform the lives of local children
How to support……
Donate brand new and very good quality secondhand books for children aged 0-16 years –  both fiction and non-fiction – why not take a look at our new Book Wish List for some inspiration
Organise a collection of books with your friends, family, community or work colleagues. Contact our fundraising team for help with posters, fundraising materials and guidance
Book donations can be dropped off in person or donated via direct delivery from online retailers to 26 Wood Street, Manchester M3 3EF. You can also book our van to collect from your chosen location.
Alternatively, you can fundraise for our Books Forever project (get in touch with our fundraising team for support!) or you can give securely online here.
Spread the word – share our project online using #BooksForever 
If you would like to support us, please get in touch with our fundraising team at fundraise@woodstreetmission.org.uk
If you are a local bookshop and would like to promote our Books Forever project and organise a collection with your customers, we'd love to hear from you! Please contact our fundraising team and we can send you posters and all the details you will need.