Our Books Forever project runs throughout the year, collecting book donations and distributing them through our Family Basics programme and Book Roadshows. 
We organise Book Roadshow events at local schools throughout the year to distribute free books to children, so they can choose books that they want to read, to take books home and keep. Thanks to you, children get to take home a bag full of books of their own at the end of the day. Our Book Roadshows aim to inspire a love of reading, encourage families to read together and help improve literacy skills.
Families on a low income can often struggle to afford new books, and may not live near libraries so our Books Forever project aims to bring books closer to children.
Once a year we hold our Books Forever Appeal when we specifically appeal for brand new books. 
Throughout March and April we were appealing for brand new books for our Books Forever project. These books will be distributed throughout the year via our Book Roadshows and our Family Basics Project.
Thanks to the incredible generosity of our supporters we have received a whopping 4,097 books (535 of which came via Amazon with a value of £2,000!). 
So far in 2022, we have provided books to 1,426 children from four local schools in Manchester and Salford – with several more Book Roadshows confirmed before October.  Books really do change lives and when we hear stories from teachers who tell us that in some cases our books are the only books a child may own, we know that we're making a difference.  Thank you to every single person and business who donated, your kindness is very much appreciated.
Your book donations are so important to us and the children that receive them, we welcome donations of books throughout the year.
You can help us with our Books Forever project by:
Donating brand new or excellent quality second hand books for children aged 0-16 years –  both fiction and non-fiction – why not take a look at our Books Idea list.
You can drop them off with us at Wood Street or they can be delivered via direct delivery from your preferred retailer to 26 Wood Street, Manchester, M3 3EF or book our van to collect from your chosen location.
Make a financial donation securely online or set up a fundraising page at www.justgiving.com/woodstreetmission to support with your friends, family, work colleagues or in your community or school.
Spread the word – share our project details online using #BooksForever
Donating Books
Books inspire a love of reading and improve children's literacy skills. By donating books you are helping transform a child's life.
Book Deliveries
Brand new books can be ordered directly from retailers to be delivered to us here at Wood Street. We'd be so grateful for your support.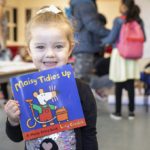 Books Roadshow
We believe reading is the key to children's imagination which is why our Book Roadshows offer books to children in the wider community.