We hold our Books Forever project throughout the year, collecting book donations and distributing them through our Family Basics programme, book clubs and book roadshows. You can find out more from our 2021 Books Forever Appeal. 
In summer we hold Books Forever Clubs for children and families providing lunch and a range of activities for the day. Thanks to you, children get to take home a bag full of books of their own at the end of the day. Our clubs inspire a love of reading, encourage families to read together and helps improve literacy.
Families on a low income can often struggle to afford new books, and may not live near libraries so our Book Clubs aim to bring books closer to children. The clubs also provide a day out for the families that would usually be an expensive treat.
If you are a family who would like to come to one of our Books Forever Clubs, please contact us for more information, we'd love to see you there.
Your book donations are so important to us and the children that receive them, however our appeal is currently on hold due to the Coronavirus outbreak. We'll let you know as soon as it's up and running again and we can get back to inspiring young minds and imaginations with your book donations.
You can help us with out Books Forever project throughout the year by:
Donating your time! We need volunteers to help us with our Books Forever Clubs by setting up venues, running activities, and making sure all the families are having a good time. If you want to volunteer please contact us for more information!
Donating books, it's simple but it's effective.
You can make a financial donation below. Your financial donations are what allow us to keep providing our services to the families who need us.
Donating Books
Books inspire a love of reading and improve children's literacy skills. By donating books you are helping transform a child's life.
Books Forever Club
Our clubs are for children and their families where they can have an afternoon of fun together. Children get to take away a bag of their very own books.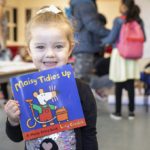 Books Roadshow
We believe reading is the key to children's imagination which is why our Books Roadshows offer books to children in the wider community.